Straits Quay
Eastern & Oriental's Group Straits Quay was opened to public in November 2010. This glamorous retail marina shopping complex is located to the north of Georgetown, in the reclaimed land area Seri Tanjung Pinang. Straits Quay is not a huge shopping mall. It only has two floors and focus lies on having a good time instead of endless rows of shops. There are many nice restaurants and bars to choose from, and over time more will open to public. There are quite a few nightlife establishments; it explains why the mall is opened until 1am daily (it opens at 10am in the morning).
Our pages on Penang
On this page:
Must visit tourist attraction
Straits Quay aims to become the new must visit tourist destination within Penang. To attract visitors it offers many things to see and do. The Performing Arts Centre of Penang also houses within Straits Quay. Besides tourists, the entertainment center focuses on higher middle class and upper class Penangites.
"E&O managed to bring the colonial charm of its downtown hotel onto this reclaimed land in Tanjung Tokong."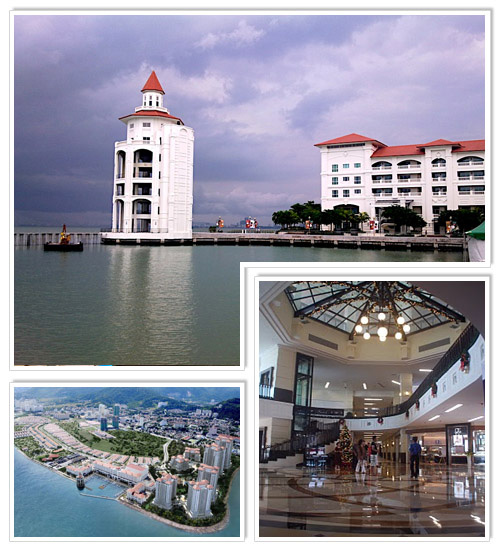 Getting to Straits Quay is easy by taxi. A cheaper option is to go there by bus, Rapid Penang busses number 101 & 103 stop at Straits Quay. More on getting around on Penang.
Map with shopping malls at Penang Island in Malaysia
Subscribe now to never miss a post!
Subscribe to our email updates or join us on our Facebook page, right now!
Travel related questions can be asked in our Telegram channel or in our Travel community.