Penang Times Square
Penang Times Square (PTS) is an urban center in Georgetown city center (on Penang Island); within walking distance of [email protected], Prangin Mall and 1st Avenue. The land was formerly owned by Escoy; a tin smelting company. The mall was opened first to public in 2009 under the name Birch the Plaza. Other phases (MICE Center and Boutique hotel) are still under construction. The development of Penang Times Square was connected to the famous monorail project. Unfortunately this almost seems to be a cursed project; as it is not finalized yet after years of preparation and construction. Should the Penang Monorail project ever see the light of day, then one of the stops will be within PTS.
Our pages on Penang
On this page:
4 floors with shops
Penang Times Square currently contains over 170 retail stores spread over 4 floors. Above the commercial floors there are another 19 residential floors. At the first floor you can find the Food Gallery; a huge indoor food court (40,000sq ft) with over 20 small restaurants. Sunshine City is the anchor tenant occupying a total of 110,000sq ft of retail space. The huge department store can be found on Levels 3 and 4, and is accessible an scenic outside escalator and bubble lift. Within PTS you can find The Soju Club; a hot nightspot that attracts night clubbers and tourists to dance the night away.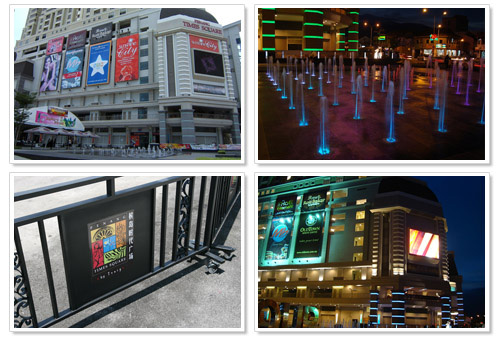 Map with shopping malls at Penang Island in Malaysia
Subscribe now to never miss a post!
Subscribe to our email updates or join us on our Facebook page, right now!
Travel related questions can be asked in our Telegram channel or in our Travel community.