Shopping in Kuala Lumpur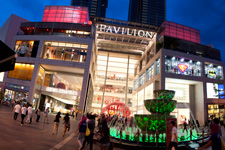 Besides eating, shopping is probably the most favorite pastime of citizens of Kuala Lumpur. After work, in weekends and during public holidays everyone travels to one of the huge shopping malls in Kuala Lumpur. Not only are the shopping malls the only place to buy certain products (mostly clothing) but often the best restaurants, bars and other eateries are located within or around the shopping mall. Kuala Lumpur has over 50 shopping malls, ranging from small basic (often older) one to enormous megamalls. Most of the shopping malls are concentrated within the Bukit Bintang area. Here you can find at least 10 shopping malls that are worth a visit; there are even two malls dedicated to computer equipment and electronics. The current most popular malls in KL city center are Pavilion KL, Suria KLCC, Fahrenheit88 and Berjaya Times Square. Most shopping malls in Kuala Lumpur are open daily from 10am to 10pm. Best days and times to visit shopping malls if you'd like to shop with a bit of privacy is during weekdays (preferable Monday, Tuesday and Wednesday) in the mornings.
Our pages on Kuala Lumpur
On this page:
Most popular shopping malls in Kuala Lumpur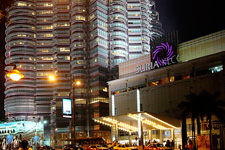 The most popular tourist mall within the so-called 'Golden Triangle' area is Suria KLCC, which lies directly beneath the famous Petronas Twin Towers. Suria KLCC is very well known in Malaysia, and besides locals the place is always crowded with tourists. Almost every shop imaginable can be found within this mall. Here the famous slogan 'Shop till you drop' really is applicable. Another very popular mall is Pavilion Kuala Lumpur. Pavilion KL is our personal favorite mall. It is located at the end of Jalan Bukit Bintang, opposite of Starhill. From Pavilion you can walk to the KLCC Convention Center in 5 minutes. From there you will reach Suria KLCC in another 5 minutes (underground). Pavilion has a great selection of shops and also a huge Parkson and a huge Tangs. There are many fashion shops, mostly of famous international brands. Pavilion also has some great bars and restaurants, and also a huge cineplex.
Below a list with popular shopping malls in Kuala Lumpur:
Huge malls outside of KL city center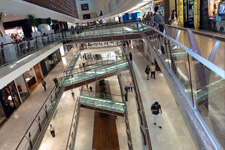 Other great malls (and especially popular among locals) are Midvalley Mega Mall that is connected to the luxurious 'Gardens', 1 Utama, Sunway Pyramid, Tropicana Mall and The Curve. All of these malls are located just outside of the city center of Kuala Lumpur. We personally like these malls best, mainly because of the great atmosphere. There are not many tourists (except during weekends) and the prices sometimes are a bit cheaper than in the malls within the Golden Triangle area. The Gardens is another personal favorite next to Pavilion KL. The Gardens has many of very nice shops. They also have a big Borders; a popular bookstore in Malaysia. There are quite some nice restaurants and also the most exclusive cinema in the city; Signatures The Gardens (only VIP seats for the best viewing experience).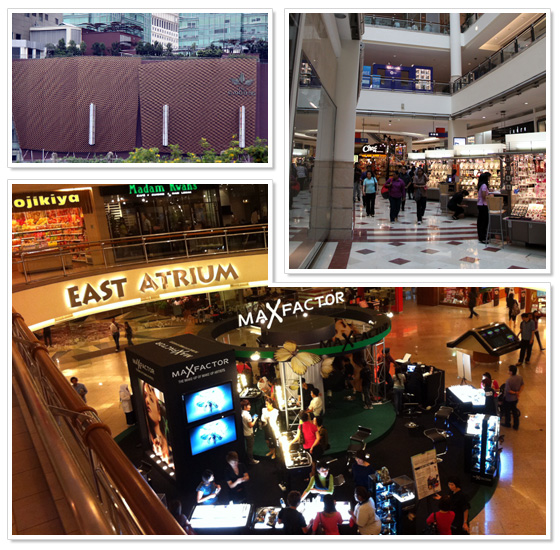 Gadget, IT and computer malls in Kuala Lumpur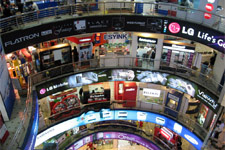 Kuala Lumpur has a couple of shopping malls dedicated to everything related to electronics. Here you will find galleries of phone shops, computer shops, console shops, camera shops and also numerous shops with accessories. The most popular 'Lifestyle Mall' in Kuala Lumpur is Plaza Low Yat. Here you will find everything that you can possibly imagine; from the latest phones, iPad's, notebooks and netbooks, photo cameras, video cameras and all in between. Make sure you bargain on every price given, as products are often sold for higher prices to tourists. Another great computer and software shopping mall is the rather old fashioned IMBI mall. This is also the place to go to if you want to buy pirated software, music and movies.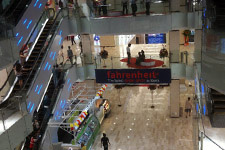 Within the mall Fahrenheit88 (former KL Plaza, next to Starhill Gallery) you will find 'Signature IT'; a huge floor with many gadget shops and computer shops. Signature IT is similar to Plaza Lowyat. Another huge IT mall can be found just outside of Kuala Lumpur within the region Petaling Jaya. Here you have the PJ Digital Mall with 5 floors of IT shops. If you are staying at a hotel within the city center we would suggest to just go to Lowyat, as the selection of products at PJ Digital Mall is very similar to the products sold at Lowyat.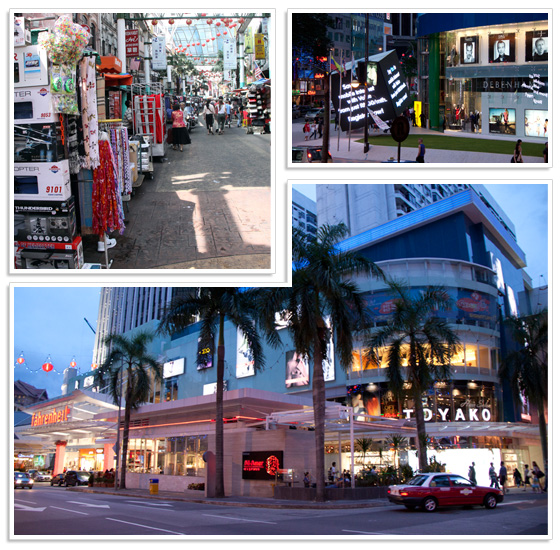 Markets & night markets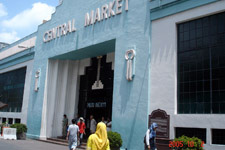 The most famous night market in Kuala Lumpur is the one in Chinatown, along Petaling Street. Here you can find many shops selling clothing, bags, shoes, accessories, sunglasses, blurays, souvenirs and much more. Besides that there are also many popular hawkers, so you can combine browsing the shops at Petaling Street with a nice local Chinese meal. Chow Kit Market is a nice local market and less visited by tourists. Night markets can be found all throughout Kuala Lumpur. Some only take place on a certain day of the week. Locals often enjoy a nice stroll through a night market as pastime after dinner. Another popular market is the Central Market where you can find all kinds of (mainly local) products. The Central Market lies within walking distance of Chinatown and also nearby Merdeka Square. From RapidKL station Pasar Seni it is only a five minute walk to the Central Market.
Map of Kuala Lumpur
Below you can see a map of Kuala Lumpur. You can simply scroll through the map with your mouse. Use the markers on the left to zoom in or out of the city map.
Subscribe now to never miss a post!
Subscribe to our email updates or join us on our Facebook page, right now!
Travel related questions can be asked in our Telegram channel or in our Travel community.