Fahrenheit88
Fahrenheit88 is a very popular shopping mall within the Bukit Bintang area; the Golden Triangle of Kuala Lumpur. The mall is located along Jalan Bukit Bintang; right next to the ultra luxurious Starhill Gallery, opposite 5 stars Grand Millennium Hotel and nearly opposite Pavilion KL. For years this mall was known as KL Plaza, but Pavilion Group rebranded the mall to Fahrenheit88 after buying it from the Berjaya Group. The mall had its soft opening in September 2010; the grand opening took place in November 2010. There are around 250 shops spread out over 5 floors. Fahrenheit88 has two anchor tenants; Uniqlo and Celsius @ fahrenheit Restaurant & Bar. There was a big buzz around the famous Japanese clothing brand Uniqlo; as it was a first for Kuala Lumpur (nowadays you have numerous branches i.e. Suria KLCC, 1Utama).
Tourists can get a special Tourist Privilege Card for extra discounts at the concierge counter on the ground floor. Bring along your passport to apply for this card.
Our pages on Kuala Lumpur
On this page:
Confusing layout
When we first visited Fahrenheit88 we had to get used to the layout of the mall. If you enter through the main entrance you will walk to the main center of the mall. From there you will use the elevators to get to the higher floors. The mall is quite deep but the design makes it look like a rather small shopping mall at first. To us this was a bit confusing, though the overall design is very nice. Noteworthy shops and restaurants at Fahrenheit88 are Epi Centre, Sushi Zanmai, Charles & Keith, Rip Curl, Midori Japanese Steamboat & Buffet.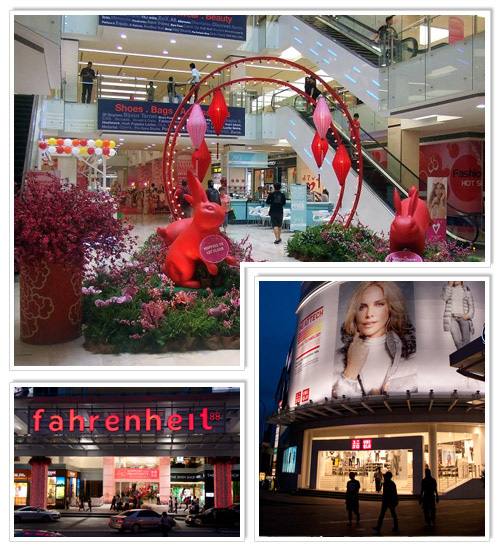 Underpass or coffee place
In front of the main entrance of Fahrenheit88 there is a nice coffee place; O'Coffee Club (originating from Singapore). Before the mall was opened to public we read stories that Pavilion Group (owner of both Pavilion KL and Fahrenheit88) was planning to build an underpass between both malls. When the nice building where O'Coffee is located was built; we thought this would be then entrance of the underpass. There are still plans to create an actual underpass, directly between the lower floors of both malls. It is unclear when this will be built.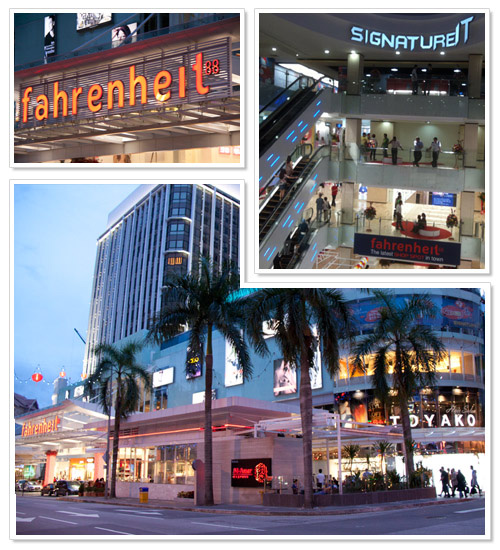 How to get to Fahrenheit88
If you are staying in the city center you can easily walk to Fahrenheit88 as it is located ideally in the heart of Kuala Lumpur. It is located nearby popular malls Pavilion KL, Starhill Gallery, Lot10, Sungei Wang, BB Plaza and Plaza Low Yat. LRT (Light Rail Transit) station Bukit Bintang is only a short walk away, so visitors can use the monorail to get to this mall.
Opening hours: Fahrenheit88 is opened daily between 10am and 10pm (F&B outlets until midnight).
Map Fahrenheit88 in Kuala Lumpur, Malaysia
Subscribe now to never miss a post!
Subscribe to our email updates or join us on our Facebook page, right now!
Travel related questions can be asked in our Telegram channel or in our Travel community.