Berjaya Times Square
Berjaya Times Square (BTS) is one of the largest shopping malls in the world. It is a very popular shopping mall among tourists and locals alike. There are over 1000 shops in business; at the higher levels you can find many specialty stores. Statistics are almost impossible to believe; over 2,5 million people visit the mall each month. Berjaya Times Square is a mall where local youth hangs out every weekend. If you visit the mall on a weekday you might already find it pretty crowded; wait until you go there during weekends or during a public holiday.
Our pages on Kuala Lumpur
Anchor tenants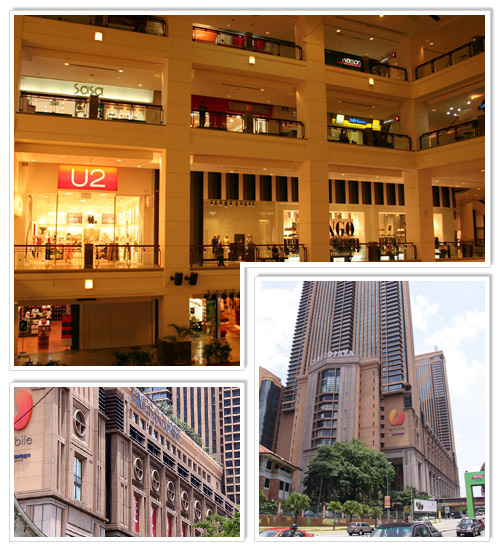 Borders, one of the biggest bookstore chains in the world can be found on the premises. Borders used to have a huge store in Berjaya Times Square, but now they downsized to a Borders Express on the lower ground floor. Still quite big, but not nearly as big as it used to be (Borders International had to close its doors, franchise Borders Malaysia is still up and running). There is an IT Centre with over 100 shops spread over three floors. There's also a huge F.O.S (Factory Outlet Store) at the ground floor, great when you're looking for affordable branded clothing. In the basement you will find many food outlets, ranging from basic shops to nice restaurants. At the same level you will also find a Cold Storage supermarket.
Over 60 dining facilities
The mall offers over 60 dining facilities, including an enormous food court at the 10th floor (10th Avenue Food Mall). Taste of Asia; another food court can be found at the lower ground floor. Sushi-lovers can head over to the Sushi King, the famous (Malaysian) sushi outlet. If you want to dine at a genuine Japanese restaurant, you should check out 'Nippon Tei' (Lot 03-93, 3rd Floor, Center). At the entrance of the Berjaya shopping mall there's a Dôme and a 2nd Starbucks.
Berjaya Times Square Theme Park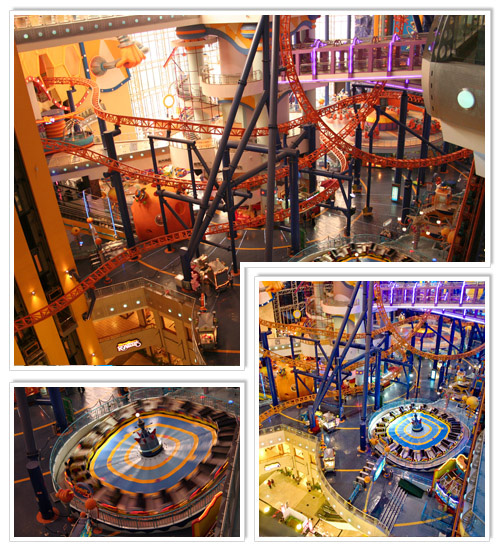 A unique aspect of Berjaya Times Square is the large indoor theme park called Berjaya Times Square Theme Park (previously known as Cosmo's World). The huge indoor rollercoaster really attracts your attention, the 800 meters long 'Supersonic Odyssey' flies past the many galleries of the shopping mall with tremendous speed. At Berjaya Times Square you can witness (and enjoy) one of the few indoor roller coasters in the world. More information on Berjaya Times Square Theme Park. Besides the indoor theme park, you can also visit the GSC MAXX (formerly IMAX) 2D & 3D theatre, the Golden Screen Cinemas, a huge 48 lanes bowling alley (Ampang Superbowl), an amusement center, karaoke bars and even an archery.
Berjaya Times Square Hotel
Tourists can stay overnight at the wonderful 5 star Berjaya Times Square Hotel. This is especially great for people that just want to spend a day or two to 'shop till you drop'. Not only is the hotel located right above the biggest mall in Malaysia, it is also very centrally located and within walking distance of many other popular malls in Kuala Lumpur (Golden Triangle area).
How to get to Berjaya Times Square
Berjaya Times Square is located along Jalan IMBI (1 Jalan IMBI). The mall is located right behind Plaza IMBI, which in turn is located next to Plaza Low Yat and Sungei Wang. The mall is easily recognizable with its two huge towers. You will cross Jalan IMBI via the footbridge and will enter the mall at the 1st floor. It is also easy to get to BTS if you are residing outside Kuala Lumpur city center. Right in front of the shopping mall you can find Monorail (LRT-Light Rail Transit) station IMBI so you can just take to monorail to the mall. From the monorail station there is a direct entrance into the shopping mall. There is also an official taxi counter right in front of Berjaya Times Square; though the fixed prices are often very high compared to the same trip on the meter. Opening hours: The mall is opened daily between 10am and 10pm.
Map Berjaya Times Square in Kuala Lumpur, Malaysia
Subscribe now to never miss a post!
Subscribe to our email updates or join us on our Facebook page, right now!
Travel related questions can be asked in our Telegram channel or in our Travel community.