Pertama Complex
Between Sogo shopping mall and Maju Junction shopping mall along Jalan Tuanku Abdul Rahman in Kuala Lumpur you have a special mall which focuses on sports, Pertama Complex. Here you'll find dozens of sport shops next to each other. Mainly locals buy their sporting equipment here because tourists usually do not know how find this hidden shopping mall.
Our pages on Kuala Lumpur
On this page:
Oldest mall in Kuala Lumpur
The Pertama Complex is one of the first shopping malls in Kuala Lumpur. After the arrival of many new malls in the city, most shops departed from the Pertama Complex. Often you see that specific stores will situate themselves in the same shopping mall. In this case it refers to the many sports stores. At, for example, Plaza IMBI has several small PC shops located together under one roof to sell computer product.
We first found this shopping mall after a tip at a Malaysian forum. I had been interested in buying some sportswear for some time by then. I needed some badminton clothing, and you have several shops where there are (only) badminton clothing and articles for sale. There are also stores with tennis rackets, football shoes, hockey sticks, even bowling balls. There are also many small specialty shops. We found a shop that sells prize trophies, numerous shops that sell travel bags (Deuter, Karrimor, Northface) and also many phone and electronics shops.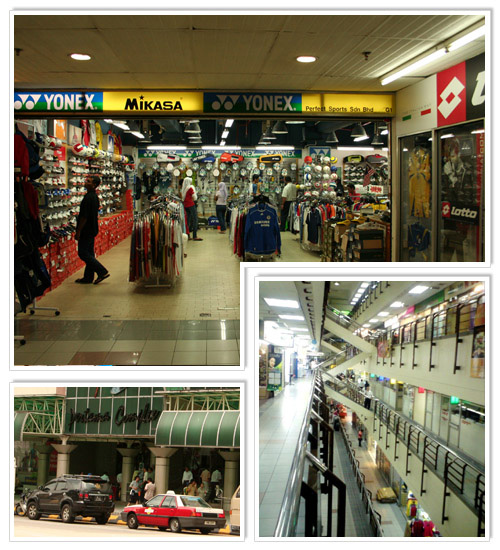 Madam Sia's backpack store
We have great experiences with Madam Sia's backpack store (Kedai Beg Yoon Hin, G66, Ground Floor, MDM Siah Shop). She sells Deuter and Karrimor. She usually gives up to 30% discount on the backpacks and other travel bags. We bought a Deuter Futura 32, a Deuter Act Lite and the 65 liter Air Contact. She gave us a couple of free locks and also a flight bag for free with our purchase. Her shop has been reviewed a lot and nobody doubts whether her bags are authentic or not (she has a Deuter distributor license).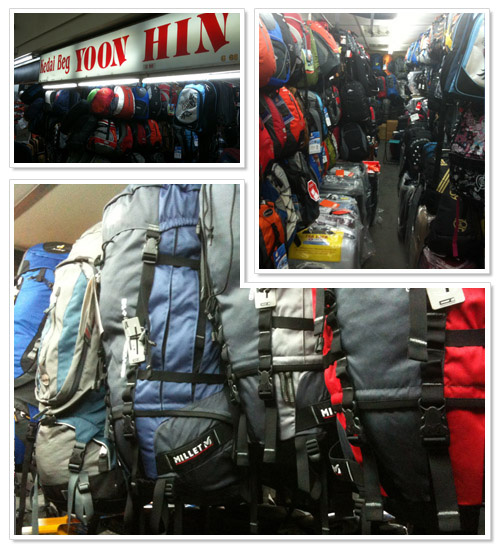 Check the small video we made at Madam Sia below.
Sate Kajang HJ Samuri
Right next to Pertama there are a few local restaurants; one of is Sate Kajang HJ Samuri. Here you can get very nice sate. Especially great is the fact that you can make your own sauce as they give you all separate ingredients. They used to grill the sate fresh before your eyes on the big grills, but unfortunately there are not allowed to do so anymore. Nowadays HJ Samuri grills the sate at another branch before taking it to this outlet. The are many branches throughout Kuala Lumpur.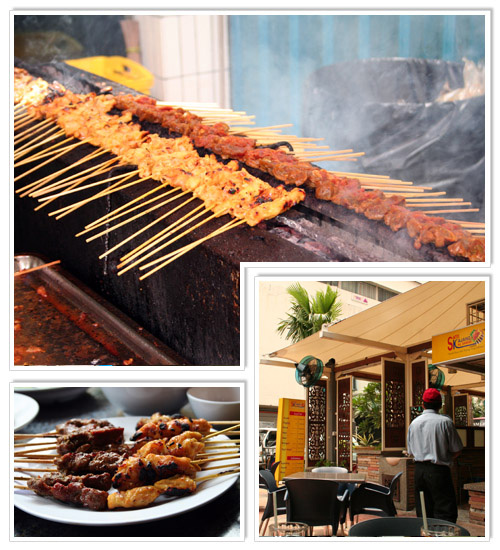 How to get to Pertama Complex
The best way to travel to Pertama is to take the metro (LRT/Light Rail Transit) to the Pertama Shopping Mall. Get off at LRT station Bandaraya or Monorail station Medan Tuanku. From both stations it is approximately a 5/10 minutes walk to the sports shops of Pertama. It is located opposite of Sogo Shopping Complex and Courts Mammoth. Opening hours: Pertama complex is opened daily from 9am to 9pm.
Map Pertama Complex in Kuala Lumpur, Malaysia
Subscribe now to never miss a post!
Subscribe to our email updates or join us on our Facebook page, right now!
Travel related questions can be asked in our Telegram channel or in our Travel community.