Plaza IMBI
Plaza IMBI can be found at Jalan IMBI in the Bukit Bintang area in Kuala Lumpur city center. Plaza IMBI is not a classy and luxurious mall; it is a special IT mall, where you can find anything related to computers. It is a low-budget shopping mall, where prices mainly depend on your bargaining skills. It used to be the biggest computer mall in Malaysia. Nowadays it is overshadowed by the very popular and neighboring IT/Gadget mall Plaza Low Yat. The owners of IMBI failed to provide the necessary upkeep; the mall is rundown and visitors are only there to find bargains on (often pirated) Blu-ray movies, software and music. We personally prefer Plaza Low Yat over IMBI. Last time we went there we decided not to visit the place anymore. The only reason you could have to go there is to check out the Jaya Hypermarket in the lower basement, or if you need to have your pc repaired.
Our pages on Kuala Lumpur
On this page:
Buying at Plaza IMBI
Shopping at IMBI can be a bit hectic as there are many small lanes and alleys that go crisscross through the levels of the 3 occupied floors of the mall. The little shops usually have loud music playing, or shop employees are playing computer games with loud sounds. Apart from that tourist are also usually spoken to when strolling through the mall; better get used to questions like 'Sir, want to buy a new graphic card?' or 'Sir, need a new computer'? I always get the impression the products that are being sold there are not the most recent versions. For the most recent items, you should better head off to Plaza Low Yat across the street.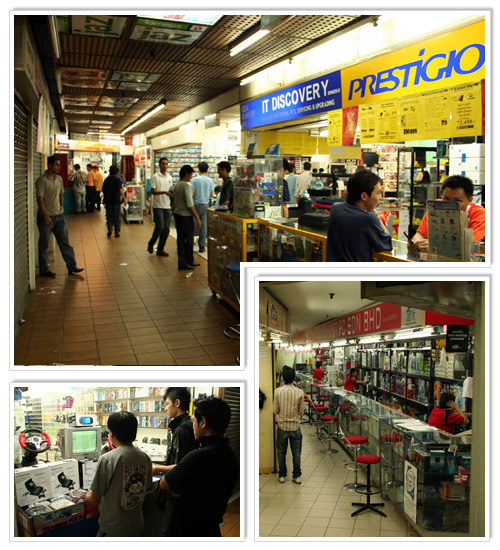 IMBI is also famous for its 'illegal' products. This goes for computer software, mp3 music, Blu-ray movies & DVD's, games; you name it, they sell it at IMBI. I personally would not buy these products there. For one you can download most of it yourself on the internet. Besides; you are risking troubles at customs of your home country when to bring along too many fake goods (including replicas of clothing, bags, watches, sunglasses). Since every country has its own policies, make sure to check up front what your country says about bringing fake stuff back home.
How to get to Plaza IMBI
If you're interested in paying a visit to Plaza IMBI; keep in mind the mall closes daily at 9pm instead of 10pm like all other malls within the Bukit Bintang area (10pm on Fridays and Saturdays). The mall is conveniently located along the monorail line; nearby IMBI station. This monorail station is located directly in front of Berjaya Times Square. As Plaza IMBI is located within Bukit Bintang; you can easily walk to the mall if you're staying in one of the hotels in this area. Since the shopping mall is a bit hidden, you'd best head over to Berjaya Times Square first. You can see the run down IMBI complex right across the road (cross the road via the pedestrian bridge). Plaza IMBI also borders popular local shopping mall Sungei Wang; you can exit Sungei Wang from the rear exit and cross the small alley to enter Plaza IMBI.
Map Plaza IMBI in Kuala Lumpur, Malaysia
Subscribe now to never miss a post!
Subscribe to our email updates or join us on our Facebook page, right now!
Travel related questions can be asked in our Telegram channel or in our Travel community.